What is clipping? Why is it bad?
In the "What does a power amplifier do?" FAQ, I mentioned that a "power amplifier" was actually a "voltage amplifier," in that it multiplies an input signal by a certain factor to produce the output voltage. So the output signal should just be a bigger version of the input signal.
And it is, up to a point. What if the input signal voltage and the gain are both high enough that the amp's output voltage maxes out? Every amplifier has a maximum voltage that it just can't exceed because that's all that's there. If the amp output signal reaches that maximum, any part of the signal above that gets clipped off. That's where the term "clipping" comes from.
Here's an audio signal with a peak that just hits 100 volts, and the amplifier can put out up to ±100 volts. The amp produces the signal quite cleanly.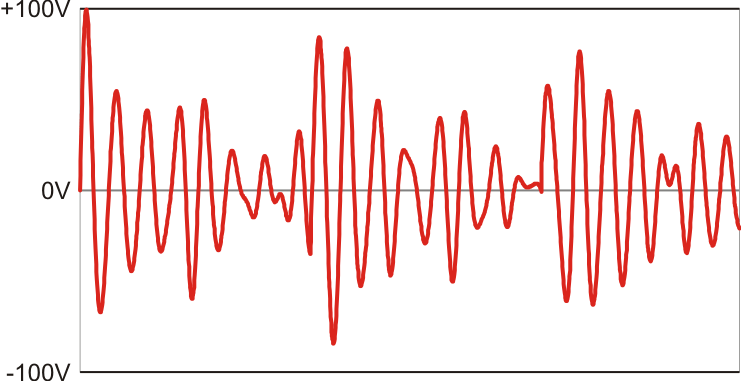 Here's the same signal from an amp whose maximum output is slightly less, ±80V. There's a very slight amount of clipping, mostly on that initial peak and a little on the next peaks. The gray part of the waveform is permanently lost by the clipping action. However, it's unlikely that this small amount of clipping would even be audible.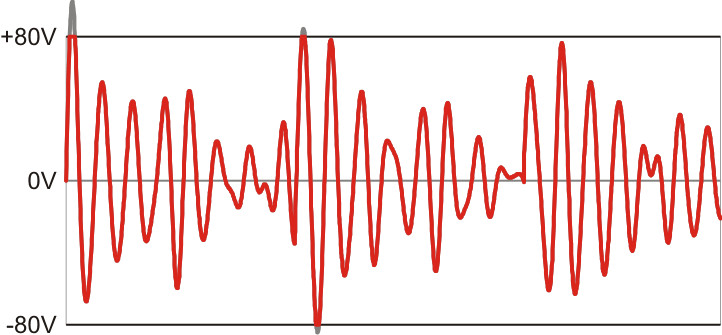 And the same signal again, this time from an amp that can put out up to ±60V. There is more frequent and consistent clipping, and it may at times be slightly audible.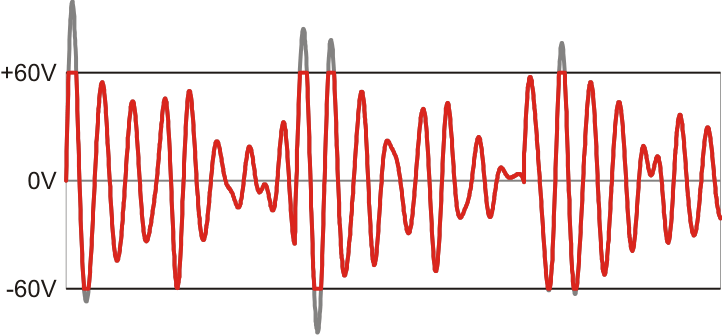 And finally here is the exact same signal produced by an amp with a ±40V maximum voltage. Look at all that gray! Much more of the signal is lost. The clipping is more extensive, and it's likely to be audible in the form of some perceptible harshness.
Ironically, all these signals would sound very nearly equal in loudness. But the amps that have some amount of headroom would tend to sound smoother and more dynamic because of the cleaner reproduction of the peaks. When an amp clips, it actually puts out more than its rated power. Sometimes much more. That's a clipped signal's
real
danger to loudspeakers.
There are many myths about clipping. We'll cover those in another question.